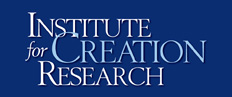 Interested in creation, evolution, and intelligent design? Want to know the latest take on scientific discoveries and how they affect our understanding of the Bible? Does science help us interpret the Bible or should the Bible remain the interpreter of science?
For over four decades, the Institute for Creation Research has equipped believers with evidence of the Bible's accuracy and authority through scientific research, educational programs, and media presentations, all conducted within a thoroughly biblical framework. ICR actively participates in conferences, seminars, and other events, communicating the evidences of science that demonstrate the accuracy and authority of Scripture.
ICR scientists have conducted multi-year research projects at locations such as the Grand Canyon, Mount St. Helens, Yosemite Valley, and the Santa Cruz River Valley in Argentina, on vital topics related to geology, genetics, astro/geophysics, paleoclimatology, and much more. ICR's outstanding staff includes Dr. Jason Lisle, formerly with Answers in Genesis, who fills a key role as ICR's Director of Research.
Solid biblical education has been a core focus since ICR's inception, and their programs have seen substantial growth as they have been converted to online formats. Without a doubt, online education offers a singularly effective method to reach large numbers of people with the truth of creation. For example, ICR's That's a Fact series of online videos has been viewed by over 350,000 people from more than 100 different countries since last October. Interested individuals can also subscribe to ICR's Daily Science Updates.
ICR's new Science Education Essentials curriculum products for Christian K-12 teachers are designed to provide an uncompromising foundation of creation-based science instruction. The Science Essentials Blog is committed to providing relevant and practical activities, discussion starters, and other resources for anyone who teaches science to elementary and/or secondary students in a school or home setting. ICR also has additional resources for teachers as well as resources for students, resources for parents, resources for leaders, resources for pastors, and resources for scientists.
ICR also publishes books, DVDs, and other educational materials written and produced by creation science experts. ICR's premier publications include the monthly full-color Acts & Facts magazine that contains unique insights into science from a biblical perspective, and the devotional booklet Days of Praise which offers deep biblical commentaries and careful study of Scripture. The ICR ministry provides these publications free of charge to all who request them. For your free subscription, click here.
ICR's ministry is reaching more people today than ever before with the scientific evidence for creation and the relevant truth of our Creator. If you find their materials to be meaningful and useful to you, please consider giving a tax-deductible donation to support ICR's vital work. All gifts will be put to good use in support of ICR's scientific research and educational programs.