Many developers offer applications to help you read, learn and study the Bible. Here are some great Bible apps for kids!
Bible Adventures for Kids ($1.99) – This interactive children's app from the American Bible Society features 10 of the best-loved stories of the Bible and 20 games! Children ages 7 and under can learn, interact, and engage with their favorite Bible stories in new and exciting ways. Each story features touchable story scenes, sound effects, and games providing an entertaining and educational experience which will increase Biblical literacy. Each story is written in a style which is both easy to hear (for non-readers) and easy to read (for young readers), and begins with a key Biblical verse that represents a central theme of the Bible story. Download at the Apple App Store, Google Play, Amazon
, Nook, and Blackberry App World. Also available in Spanish.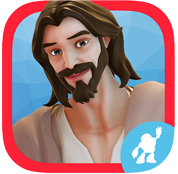 Superbook Bible App (FREE) – This free app for  iPad & iPhone, Android, and Kindle is a media-rich experience for kids ages 5 and up that brings the Bible to life. The app includes a full Bible (multiple Bible versions plus audio for the New Living Translation), along with videos and images from CBN's Emmy-nominated Superbook Bible animation series, as well as engaging interactive trivia games, word searches, background information on Bible characters, and Q&A with answers to common questions kids have about God and the Bible. All of the content is also embedded within the Bible itself and you can personalize the Bible by uploading your own photos, making highlights, selecting favorite verses, and writing notes.
Bible for Kids (FREE) – The Bible App for Kids is the newest member of the YouVersion family of apps, makers of the #1 rated Bible App! Available for Apple and Android smartphones and tablets, the Bible App for Kids is always completely free! Through interactive adventures and beautiful animations, kids explore the big stories of the Bible. With fun facts, engaging activities, and special challenges designed to help kids remember what they learn, the Bible App for Kids is a delight-filled experience that encourages kids to return again and again. It's the beginning of a lifelong love of God's Word, for ages 4-10.
The ABC's of God ($1.99) – Write, identify, hear, speak, match, and play with all 26 letters of the alphabet through 290+ activities using the Bible! Created by a schoolteacher, parent of four, and Bible student, this iPad/iPhone app allows your child ages 2+ to interact with the alphabet (both upper and lower case) using all three learning styles (visual, auditory, and kinesthetic), while learning about God from His Word! Kids can trace each character in a wooden stencil, on a felt pad, and on a chalkboard! They can also find letters using a flashlight, match them on a fridge, and more!
The Beginners Bible (first story pack is free; additional story packs are $1.99) – The bestselling Bible storybook from ZonderKidz is now available in special iPad edition that includes enhanced audio with compelling narration, music, and sound effects that help bring 94 Bible stories to life like never before. Bible characters, coloring pages, puzzles, and games bring God's Word to children ages 2-6 in an engaging and interactive way. The first story pack includes 6 stories, coloring pages, puzzles, and game – all for FREE!
The Adventure Bible Memory Game ($1.99) – This ZonderKidz app for iPad and iPhone contains over 1300 NIV Bible memory verses chosen especially for kids ages 7-11. Do verse scrambles by filling in the blank, choose easy/medium/hard, and earn cool prizes like adventurous pictures and sounds. Even record your own voice reading your favorite verse! (The Adventure Bible Lite is FREE!)
Children's Bible (FREE) – This app contains comic books and movies about the Bible for children and teenagers. There are actually several apps in one. For 6-year-olds and under: "My First Bible Books," "My First Bible Games," and "My First Prayers." For ages 7 and up: "Children's Bible Games and Activities," "Children's Bible Books and Movies," and "Children's Bible Daily Prayer." Plus new content for teens! This app is highly rated and provides Biblically-accurate content. A good tool to start reading the Bible and an easy way to talk about Jesus and God with your kids.
Glo Bible (Lite version is FREE) – This award-winning app brings the Bible to life for the younger generation through HD videos, high-res images, 360-degree virtual tours, and much more! Glo is available for iPad and iPhone; or the GLO Premium multi-device retail box edition
includes DVDs for installation on Mac, Windows 7, Vista, and XP computers, with the ability to install all 18gb of Glo media directly on your drive for offline use.