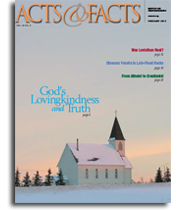 The next issue of Acts&Facts is now available from the Institute for Creation Research. For over four decades, ICR has equipped believers with evidence of the Bible's accuracy and authority through scientific research, educational programs, media presentations, and publications.
Read the February issue online: http://www.icr.org/aaf
See archived articles: http://www.icr.org/archives
Full versions of current and previous Acts & Facts can be viewed online in PDF format using the free Adobe® Acrobat® Reader.
You can subscribe to receive a free subscription to Acts & Facts by clicking here.